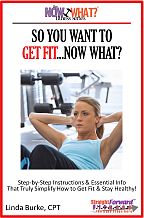 Buy "The Now What? eBooks" Here! Or go to Smashwords for misc. formats.
The Now What Fitness Series lays out the foundation of fitness in a concise and simplified manner, making for a collection of books that help the reader truly comprehend how to improve one's health and well-being from A to Z. I've broken fitness down into comprehensive concepts, giving anybody who truly wants to change their health and their lives in profound ways, the step-by-step tools and knowledge to do so. 
Would You Like To Contact Me?
Thanks so much for stopping by! I hope you enjoyed your visit and that you stop by often.

It is my mission to try and simplify, clarify, and organize, if you will, the clutter of misinformation and mass-information that abounds on the subject of fitness. Without our health, little else matters. I think YOU matter. It is my hope that Straightforwardfitness.com will add something positive in the direction of your goals for living a healthier life.

Did you find Straightforwardfitness.com helpful? Do you have a suggestion that would make it better or more helpful? I would love to hear from you, so please feel free to submit any comments, suggestions, questions, concerns, or just say hello in the box below.

Please do not hesitate to contact me if I can be of any further assistance to you.

And don't forget to sign up for your free newsletter before you leave!

---