About Me
Hello fellow fitness friends! I'm Linda, the founder of StraightforwardFitness.com. Inside this site you'll find I've tried to leave no stone unturned as I lift the veil on the truth about fitness. I believe it shouldn't be complicated or gimmicky. That's why I named my site Straightforward Fitness. I am all about giving it to you straight. No fluff. No filler. No gimmicks or promises of magic overnight results. The hype truly does stop here.
Me in Asheville, NC, April, 2015
Life is Much Brighter When You Have a Great Sister
Straightforwardfitness.com also has a sister site, Nowwhatfitness.com, where I blog every now and then (not as often as I should). It is my hub site from where I sell my eBooks, and it is my goal to blog once monthly there. (I know, I am a tad behind.)
As you can see, I have several projects in the works, as well as actively training clients and trying my hand at internet marketing.
I am an AFAA (Aerobics and Fitness Association of America) certified personal fitness trainer. I first got my certification about 25 years ago in 1994. Before that I began my fitness journey in the early 80's in effort to lose some extra pounds that kept inching its way onto my body.
I discovered weightlifting as a fun form of weight control. I guess you could say it stuck. I got bit by the fitness bug about 30 years ago and can't imagine ever quitting training. That's why it seems so natural to share my knowledge and passion for fitness through the web world.
Sharing My Passions
I love to write which is why these websites appeal to me the way they do. Must be why I keep starting new ones. They allow me to fan that creative spark and hopefully inspire countless people all over the globe through the manipulation of words in a way no other medium can.
I may be guilty of having too many coals in the fire, but hey, at least I am cooking! Lol. And in the meantime, between all my sites, my YouTube channel, my Newsletter archives, and my eBooks, I think I've given you plenty of resources to help you on your fitness journey, whilst I keep improving, creating, building and expanding more and more helpful info to ensure you achieve your fitness goals!
Thanks for stopping by. I do hope you enjoy the fruit of my efforts. Be sure and check back often; I will be adding new material on a regular basis as I continually freshen up the pre-existing content. I would love to hear from you, so please do not hesitate to contact me and leave a comment, suggestion, or just to say hello. I cannot tell you how much that means to me.
From my heart to your health,
Linda Burke, AFAA Certified Personal Fitness Trainer                                                          
Founder of Straightforwardfitness.com and Nowwhatfitness.com
Author of The Now What? Fitness Series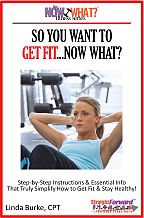 Buy "The Now What? eBooks" Here! Or go to Smashwords for misc. formats.
The Now What Fitness Series lays out the foundation of fitness in a concise and simplified manner, making for a collection of books that help the reader truly comprehend how to improve one's health and well-being from A to Z. I've broken fitness down into comprehensive concepts, giving anybody who truly wants to change their health and their lives in profound ways, the step-by-step tools and knowledge to do so. 
Return from About Me to Homepage