Introducing

 The Now What Fitness Series
Are You Sick And Tired Of Promises Of Health And Lifelong Happiness With The Purchase Of This Gizmo Or That Pill? Have You Grown Exhausted With All The Hype And Lies About How To Actually Get Fit? 

You Know You Need To Exercise. 
You Know You Need To Get In Shape.
But The Media Keeps You Confused With Quick-Fix Promises And Lies!
Well Your Confusion is about to be Over! 

The Now What Fitness Series lays out the foundation of fitness in a concise and simplified manner, making for a collection of books that help the reader truly comprehend how to improve one's health and well-being from A to Z. I've broken fitness down into comprehensive concepts, giving anybody who truly wants to change their health and their lives in profound ways, the step-by-step tools and knowledge to do so.

From the desk of: Linda Burke, Certified Personal Fitness Trainer 


Dear Friend, 

Are you one of the brave souls who've recently decided to begin a health and fitness program? Or maybe you are seriously considering it, but keep backing out due to fear of not knowing what to do or how to do it? 

Perhaps you've been going to the gym for some time now but aren't seeing the results you would like to see and are unsure if you are doing the right things. Or maybe you purchased some home equipment and are finding it hard to know exactly what to do or how to stay motivated. If any of these scenarios sound vaguely familiar, then I have some very good news for you.

You see, I used to be just like you. While it's true, I obviously conquered my fear and learned a thing or two about fitness since becoming a fitness trainer 21 years ago, I swear to you, I too was once petrified of walking into the gym, much less knowing what to do at home. I remember all too well walking into the gym and feeling completely humiliated and embarrassed because I had no clue as to what to do or how.
Do you know just enough to be dangerous?
Maybe this is your scenario or maybe you aren't quite that green. Maybe you know something about cardio but nothing about strength training or vice versa. 

When I first began, I knew nothing about any of it. I was not a jock. I never participated in sports growing up or in high school or college. I was completely GREEN. 

Since then, I have trained every level of client there is, from the complete novice to the bodybuilder, so I understand what you feel like and what you truly need to know. I empathize not only from a personal standpoint of how I felt long ago, but from the standpoint of how my one-on-one clients feel, now, as they enter the fitness facility for their first few workouts.

I see the look of terror on their faces, and I recognize the pain behind how badly they feel about the shape that they have allowed themselves to get into. 

Conversely, I also get to witness a transformation that is the ultimate payoff for me—and for them—as I watch them go from paranoid and ashamed to confident and proud.
I AM OFFERING YOU THIS SAME OPPORTUNITY NOW FOR THE FIRST TIME EVER.
THE NOW WHAT FITNESS SERIES is truly a one-of-a-kind eBook series!
Anyone who wants to finally get the results they yearn for from their fitness program MUST own this series. It is like a VIP MANUAL that will set you above the masses in the gym or at home who spin their wheels and accomplish very little. Unfortunately, most people are doing poorly structured workouts and performing exercises incorrectly and ineffectively. 


That is precisely why I wrote these books. They are jam-packed full of hype-free, vital information that forms the very foundation of how to build a structured routine; one that will produce the results you are so desperately seeking.

Finally, you have access to a STRAIGHTFORWARD guide to help you make the most of your new commitment and maximize your health and fitness plan. It's not rocket science, and my intent is to simplify a very convoluted subject and give you the "straightforward" facts minus the hype, fluff, and filler. All you have to do is check out THE NOW WHAT FITNESS SERIES titles and choose the ones that best suit your needs. Or you may read them all. That's the beauty of it. They are succinct so that you don't have to invest hours and hours in reading insignificant or irrelevant material.

The only way to take back control of your life and ultimate wellbeing is to stop believing in lies and hype and once and for all begin doing the only thing that really works.


Each book in THE NOW WHAT FITNESS SERIES covers a separate, albeit essential, step on the path to achieving improved health and fitness. In fact, without much of this info, you could waste a lot of time and even risk injury with ineffective and dangerous methods. This series spells it out for you providing step-by-step instructions that will help you maximize your workouts and transform your health, your feelings of despair, and your pent-up frustration into self-confidence and the peace of mind that comes from having a strong, fit, healthy body.

To skip directly to the BUY NOW button click here.
You see, I know the secret that will allow you to cross over into the land of fitness.

It doesn't have to feel like some place that is just out of your reach. It isn't magic. And it isn't some pie in the sky, get healthy quick scheme. I have not re-invented the wheel here. That is not my claim. What I have done is this:
·  I spent over 30 years experimenting and utilizing the principles of exercise and fitness in my own life and in the training of others.
·  I turned my passion into a profession when in 1994 I became ACE (American Council on Exercise) and AFAA (Aerobics & Fitness Association of America) certified and began training clients.
·  I am presently AFAA certified and continue to work closely with clients whose individual needs run the gamut from extremely unfit all the way to sports-specific training. 

Over the years, I have taken the time to watch, look, and listen for what real people need to know when they decide to implement a health and fitness plan. So, I know what works. I know how to maximize your gym workout or your home workout and your nutrition plan and that is what I've shared with you in my eBooks in the THE NOW WHAT FITNESS SERIES.
Take it from me. Those 5-minute workouts and pills and the zillions of other scams that abound on the market that promise instant or easy results will rob you of your money and possibly worse…your health and vitality. Do you really believe that those buff fitness models achieved their awesome bodies working out a couple of minutes a day or by taking a pill or drinking some miracle supplement? Every time you try something that is a scam, it affects you mentally, physically, and financially.

That is why this is so vastly different than anything you've ever tried before. 
It is not a scam. It is a genuine extension of my hand to yours. No, it is even more than that. It is an extension of my heart to yours. Because I know how deep this stuff goes. 

When you are unhappy with your appearance and the way you feel about yourself, it affects every part of your life and every part of the lives of those you love. I get that.
What if I told you that we can fix it? We can make your gym membership or your home gym one of the best decisions you ever made instead of one that so many people wish they could undo.

HERE'S HOW: THE NOW WHAT FITNESS SERIES is a comprehensive compilation of information that will help you: 
Know how to get the best results in the least amount of time by training smart instead of wasting     your valuable time in the gym or at home like many people do.
Understand how to structure your fitness plan with confidence!
Turn your strength and cardio training into fat blasting sessions!
Achieve the healthy body and level of fitness you've only dreamt about until now!
Feel better and look younger! Make your friends think you've discovered the fountain of youth!
Get your money's worth from your gym membership or your home equipment investment by           showing you how to maximize your workout in the least amount of time possible with a well             structured routine.
Achieve a quality workout every time you work out.
Here's a sneak peak at the condensed version of the table of contents, or the MAJOR TIPS covered in these books: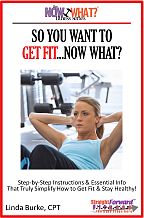 SO YOU WANT TO GET FIT...NOW WHAT?
Chapter 1 - What Constitutes a Good Fitness Plan?
Chapter 2 - Cardiovascular Fitness
Chapter 3 - Strength Training
Chapter 4 - Flexibility Training
Chapter 5 - Nutrition in a Nutshell
Chapter 6 - Bringing It All Together In a Feasible Plan Anyone Can Do
SO YOU WANT TO DO CARDIO...NOW WHAT?
Chapter 1 - What is Cardiovascular Fitness?
Chapter 2 - Modes of Cardio Training
Chapter 3 - What's Your Target Heart Rate Zone?
Chapter 4 - How to Monitor Your Heart Rate
Chapter 5 - Beginning Cardio Training
Chapter 6 - Progressing Into Interval Training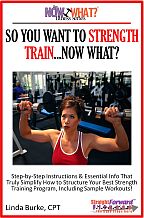 SO YOU WANT TO STRENGTH TRAIN...NOW WHAT?
Chapter 1 - What Is Strength Training and Why Is It Necessary?
Chapter 2 - Sets and Reps Explained
Chapter 3 - How to Structure Your Workout
Chapter 4 - Eating Before and After Workouts, Plus a Word on Supplementation
Chapter 5 - Sample Strength Training Workouts
Chapter 6 - Integrating Flexibility into your Fitness Routine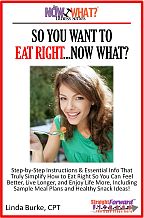 SO YOU WANT TO EAT RIGHT...NOW WHAT?
Chapter 1 - Food Comp 101
Chapter 2 - Linda's Top Ten Tips To Foster Fat Loss Faster
Chapter 3 - Portion Control
Chapter 4 - Smart Carbs
Chapter 5 - How Do I Do It?
Chapter 6 - Food Labels: How to Read Them and What to Watch Out For
Chapter 7 - Sample Meal Plan and Healthy Snack Ideas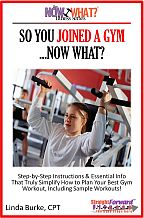 SO YOU JOINED A GYM...NOW WHAT?
Chapter 1 - Where to Begin
Chapter 2 - After the Warm-up: Strength Train
Chapter 3 - Cardio Training
Chapter 4 - Guidelines for Safe and Effective Training
Chapter 5 - What to Wear and How to Act
Chapter 6 - Sample Gym Strength Training Workouts
Chapter 7 - Integrating Flexibility Training Into Your Routine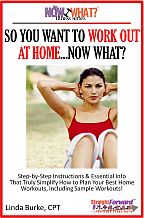 SO YOU WANT TO WORK OUT AT HOME...NOW WHAT?
Chapter 1 - Home Workout Equipment
Chapter 2 - Where to Begin
Chapter 3 - How to Structure a Safe and Effective Strength Training Workout
Chapter 4 - Cardio Training
Chapter 5 - Guidelines for Safe and Effective Training
Chapter 6 - Sample Home Strength Training Workouts
Chapter 7 - Integrating Flexibility Training Into Your Routine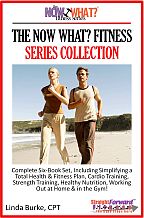 THE NOW WHAT? FITNESS SERIES COLLECTION 
After releasing The Now What? Fitness Series, I quickly realized that I needed to bundle them in a way that would make it easier to purchase all six at once instead of having to buy them separately. Hence, The Now What? Fitness Series Collection was born. This 6-book set leaves no stone unturned in your search for hype-free, comprehensive guidance to better health and fitness..

You'll be amazed at how much information I packed into these books! Now I know what you are thinking. This is going to be expensive. Right? Wrong. This will be the best money you have ever spent. 

But, you really shouldn't look at this as money spent. You should see this as what it really is…an investment in your future. An investment in your loved ones' futures. If you implement the principles and instruction in The Now What? Fitness Series, it will absolutely add years of quality and longevity to your life, and, hence, give you more quality time in better health to spend with the people who matter most to you.
100% MONEY BACK GUARANTEE
In fact, I guarantee that my eBook will benefit you or I will return your money back. That's right, I guarantee that The Now What? books will enhance your health and fitness plan exponentially or I will return your "investment." That is how much I believe in this product and its intrinsic value.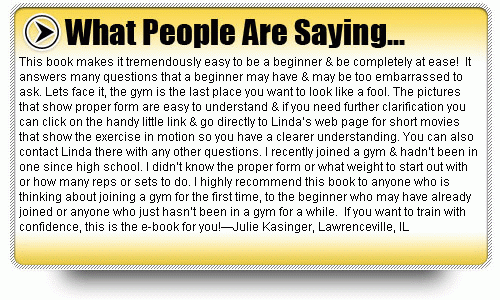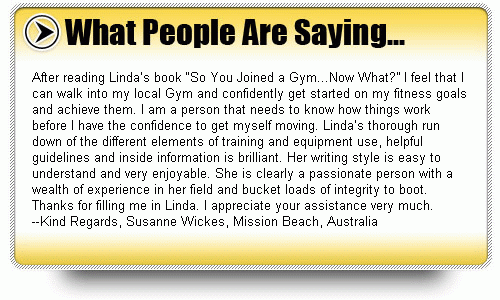 So what are you waiting for? Go ahead and make this investment in a happier, healthier body than you ever dreamed you could achieve.

Purchase your copy of THE NOW WHAT? FITNESS SERIES COLLECTION or pick and choose between the six books in the series and begin to maximize your health and fitness plan today! The information that you need to attain your new body and finally make your fitness goals a reality are only a click away!

To purchase your copy CLICK HERE!


If you have any questions or problems, please do not hesitate to let me know.

From my heart to your health!

Linda Burke, CPT
PS After your purchase and subsequent reading, please drop me a line through the "contact me" page on this website and let me know how this eBook has influenced your health and fitness regimen! I love hearing success stories and may even publish your comments on this site (with your permission, of course).
PPS If you are considering this purchase but are delaying for whatever reasons…think about this. I have spent over 30 years in gyms across the US. I have watched the vast majority of gym patrons' bodies never change. Year in and year out they come in and perform poorly constructed workouts, utilizing unsafe and ineffective form and technique and they wonder why their goals never seem to come into fruition.
For a mere 2.99 per book or 5.99 for the compilation, I am offering you a way to bypass all that wasted time, effort, and possible injury. The info in The Now What? Fitness Series will catapult your workouts into the results-producing, life-changing sessions that will improve your life profoundly. I know firsthand because I use the same methods and principles and it works for me and for my clients and anyone else who knows how to train smart.
WHICH ONE WILL YOU CHOOSE?
Six months from now one of four scenarios will transpire for you:
1) You will either be going to your fitness facility or working out at home and making slow progress.
2) You will be hitting and missing with your workouts and wasting time like so many do.
3) You will have quit.
OR

Why would you settle for any of the above when you could have what's behind curtain number 4? (drumroll please...)

4) You can invest under 6 bucks and give THE NOW WHAT FITNESS SERIES a try or $2.99 per single book. I guarantee that if you purchase my eBooks and put them to use, in far less than six months your workouts will yield you the benefits of better health, vitality, improved self-confidence, not to mention looking and feeling younger than you have in years and maybe ever.

Your workouts will be turbo-powered into producing outstanding results when you implement the tips, techniques, and guidelines in my book. It's truly the best money you will ever invest to maximize your gym workout and kick your progress into overdrive! At this price it's truly a no-brainer!

Why wait? Buy now and get started right away! The sooner you get started, the sooner you'll begin to see and feel results that will blow you and your friends away!

TO SKIP DIRECTLY TO PURCHASE AT AMAZON.COM for your Kindle, iPad, iPhone, Blackberry, Android devices, PC, and Mac CLICK HERE! 

TO PURCHASE FROM SMASHWORDS for your (Apple iPad/iBooks, Nook, Sony Reader, Kobo, and most e-reading apps including Stanza, Aldiko, Adobe Digital Editions, Kindle, PDF for your PC or Mac) CLICK HERE! 

Return From The Now What? Fitness Series Sales Page to Straightforward Home