TIME TO SMELL THE ROSES

This morning as I pondered what to write this month's newsletter about, it became clear to me that I really had no choice if I were to follow where my heart is at this very moment. I'd much rather write from the heart with sincerity and conviction than try and gloss over what I'm feeling with writing something about fitness that I could quote in my sleep.

Losing a loved one can bring you to a reality check unlike any other event in life. Few things have a way of bringing you to your knees like this one can. I am so guilty of getting caught up in life's busy day-to-day schedule and obligations that many times I feel detached and void of the connection that brings meaning to why I am on this planet in the first place.

My uncle died last week and though we saw it coming for some time it still provided a wake-up call I wasn't prepared for. I must admit that I've never been to a funeral service like his and probably won't again for some time, if ever. That's because he was truly one of the most unique individuals I've ever had the privilege of knowing. His outlook was always sunny and bright. He sang constantly and smiled and joked the rest of the time. His list of health issues would stagger the best of us, yet he continued to have an optimistic outlook until his dying breath. From Parkinson's, Diabetes, Cirrhosis, bad knees, falling and breaking a hip and shoulder, and on and on...this man just wouldn't and couldn't stop trying to brighten up anyone's life he came into contact with.

I sat in that funeral home and watched as person after person filed through to pay their last respects to this man. I watched as they laughed and cried in his memory. I looked into the faces of everyone I spoke with on Thursday as we all sadly celebrated a man's life who touched so many in ways we knew would leave a void in our hearts forever for his passing.

As I continue to watch so many people mourn his death, I can't help but question what I've done in my life that would leave any kind of meaningful afterthought beyond my existence. Then it hit me...it's not too late. Each one of us that my uncle left behind still has the opportunity to affect our fellow traveler's lives in ways we may never truly comprehend. Uncle Steve had no letters before or after his name to mark special status or education though he studied hard for his two-year degree in order to earn more pay and better provide for his family. He was a simple man who led a simple life. He served his country proudly in the Air Force and though he never served on the front lines in Viet Nam as some of his peers did, he served behind the scenes and poignantly recounted how he felt as he pulled the bodies of his fallen comrades from the airplanes after their final return home. My uncle had no purple hearts or honorary degrees marking his importance or heroics, yet his memorial service humbled me like no other. It made me proud to be his niece and more importantly, it made me want to be a better person for the rest of my time on this earth.

My uncle had a gift for smelling roses even under the most dire circumstances and spreading that sweet aroma to all he came into contact with. You may wonder what any of this has to do with health and fitness. All I know is without our connection to the very things that give our lives meaning, like love, relationships, laughter, singing, dancing, and just being joyous...fitness feels to me like a mute point.

Thanks, Uncle Steve, for showing those who knew and loved you what courage and dignity, love and compassion, and inspired purpose can look like until the very end. I may not ever know what your complete purpose was (nor mine), but anyone who knew you can say you made them laugh and smile whenever you were around. Not a bad legacy to leave behind. May we all learn from your awesome example.

In loving memory of my amazing uncle, Steve Wright, who crossed over Sunday, February 5, 2012.




---




GET MY BOOKS FREE!
FOR THE FIRST 20 PEOPLE WHO PROMISE TO (STAR) RATE AND POST A REVIEW AT AMAZON.COM AFTER READING THEM.

Here's all you have to do. Just contact me for your free PDF copy of any of the books. Leave your email address and your promise to rate and post your review and I'll send your free PDF via email. I trust you! To post the review, go to amazon.com and go to whichever book you read and scroll down to the "Create your own review" button. Please be sure and star rate it too! That's it! It's as easy as that to get any of my books for free. This is a limited time offer. So act now before you have to pay full price! Thanks so much!

NEED HELP WITH YOUR FITNESS PLAN?
Go Here to buy my fitness books now for your Kindle!! And did you know you can give Kindle ebooks as gifts – just click the yellow "Give as a Gift" button on the right side of any Kindle book page on Amazon.

The Now What? Fitness Series is for sale now at Amazon.com and is available for download to your Kindle, iPad, iPhone, Blackberry, Android devices, PC, and Mac.

To purchase it for download to your Apple iPad/iBooks, Nook, Sony Reader, Kobo, and most e-reading apps including Stanza, Aldiko, Adobe Digital Editions, Kindle, PDF for your PC or Mac, click here.

Or if you're a loyal Barnes and Noble customer, then by all means click here. I aim to please! To view them at the countless other sites, just Google Linda Burke Fitness Books.

My books are a series of six that will help anyone who wants to begin a health and fitness program know exactly what they need to do and exactly how to do it. These books are succinct and easy to read yet jam-packed with need-to-know info without all the hype, fluff, and filler you'll find in other fitness books. You can also buy them as a complete collection, so be sure and look for that wherever you decide to buy.

LET'S NOT FORGET TO PAY IT FORWARD, PLEASE!
Let me just say that the best advertisement possible is word of mouth and your support for the hard work I've put into my books is much needed and appreciated. That's why I would so appreciate it if you good folks would take the time after purchasing and reading my books, to submit a testimonial from the place it was purchased. It only takes a second and it will help support my work more than you could know. If for some reason that is too much trouble or time consuming, (I understand how valuable your time is) please don't hesitate to click here and submit your review or testimonial and I will post it for you.

Thank you so much for doing that!



---


Say! Did you know that you can follow me on Facebook? Well, you can! Jump on over to Facebook.com/StraightforwardFitness and "like" my page, please. I post a fitness tip most days. Feel free to leave comments and check in often. Thanks ever so much!



---


EXERCISE OF THE MONTH
This is the part of the newsletter where I picture an exercise and give explicit instructions on its proper execution.

This month's featured exercise is the Incline DB Biceps Curl. It's great for firming up those upper arms that so many of my female clients complain about. T

Incline DB Biceps Curl
Primary Muscle Group Worked: Biceps.

To see a video of this exercise go to: Incline biceps curl.

Preparation:Lie back on an incline bench with arms hanging straight down, keeping elbows aligned below shoulder joints throughout the move, and dumbbells hanging to your side, palms facing forward.

Execution: Bend the elbows raising the weight as high as you can without moving the upper arm forward, keeping elbows in direct alignment underneath your shoulders throughout the move. Return to the start position and repeat for desired amount of reps.

TIP: Exhale as you raise the weight up. Avoid the urge to curl your wrists or to move the upper arms forward at the top of the move.

HEREIN LIES THE CHALLENGE: Go slow. Do Not Rush This. Keep those upper arms back and in!



---


THE PONDER POND
Okay, peeps! This is the inspirational part of the newsletter known as the "Ponder Pond" where you're welcome to take a swim in the sweet waters of inspiration.

I chose this video because it inspired me, and I hope it inspires you too! If this man doesn't inspire you to make healthy changes, nothing will. Awesome!



---


Well, that's about it for this time! I hope you enjoyed this month's newsletter and until the next issue, may the wind be at your back and improved health and vitality your new reality!

If you enjoyed this newsletter, please feel free to pay it forward to anyone you think would like it too. That is the best compliment you could ever pay me, and I appreciate it very, very much.

And don't forget to tell everybody about Straightforwardfitness.com where they can get all the free fitness info their heart desires and sign up for this newsletter while they are there.

From my heart to your health,

Linda Burke, CPT



Buy The Now What? Fitness Series Books Here!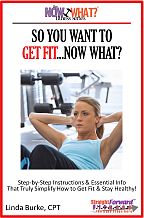 Please go to Amazon.com or Smashwords to purchase any version your little ole' heart desires.


To Get a Free Copy of The Gym Equipment Handbook
and Much, Much More...Simply Click on the "Click Here" Button Above or Click on My Book Below and Enjoy All the Free Gifts on That Page That You Want!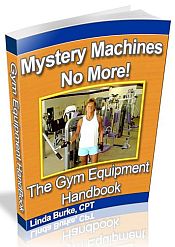 Sign Up Below For Your Free Monthly Newsletter, The Straightforward Fitness Flash!