Wow! I cannot believe that this will be the last newsletter of 2010. The next time you receive an issue of The Straightforward Fitness Flash, it will be a new year. Isn't it crazy how time flies? Before you know it yet another year will pass. Let me ask you this: Next year at this time will you still be thinking about beginning a new health and fitness plan or will you be enjoying the health benefits that come from successfully implementing lifestyle changes that will improve your life exponentially?

Make Your New Years Resolution To Get Healthy!

Ask the majority of people what are the most important things in their lives and I guarantee at the top of the list would be answers like health and happiness. All you have to do is get sick or injured to really appreciate how good it feels to feel good, right? Without our health, our quality of life suffers and our happiness along with it.

When you stop and think about it, it's crazy not to do what we can—what is in our control—to promote our own health and happiness through making healthy lifestyle choices, don't you agree?

It never ceases to amaze me to think about how many people there are who never lift a finger to exercise, or all the folks who continue to eat garbage, i.e., greasy fast food, processed food, refined sugar products, etc., day after day without giving it a second thought. These same people are depending on doctors and prescriptions to fix what ails them when lifestyle change is what their bodies yearn for.

Pills and procedures may treat the symptoms, but proper nutrition and exercise will cure the cause nine times out of ten. Not to mention, the side effects from prescription meds are usually much worse than the reason you took the pill in the first place, creating more problems than you had to begin with. It's a vicious cycle.

Why should we exercise? Why should we care about what we put in our mouths or about what we eat? Does a healthy lifestyle really make that much of a difference? You bet it does! The benefits of regular cardiovascular exercise and strength training along with a healthy nutrition plan can truly mean the difference between life and death, not to mention save you money in the long run. That may sound like an over dramatization, but it's true and I have the statistics to prove it.

Get This: Preventable illness makes up approximately 80% of the burden of illness and 90% of all healthcare costs and accounts for eight of the nine leading categories of death.

Just take a look at a few more statistics and then YOU do the math:

U.S. healthcare costs doubled from 1990 to 2001 and are projected to double by 2012
Four of the ten most costly health conditions affecting employers are related to heart disease and stroke.
Heart disease and stroke are, respectively, the first and third leading causes of death in the United States.
USA Obesity Rates are Climbing at a Sickening—pun intended—Pace: * 58 Million Overweight; 40 Million Obese; 3 Million Morbidly Obese * Eight out of 10 People Over 25 are Overweight * 78% of Americans are Below Basic Activity Level Recommendations * 25% are Completely Sedentary * 76% Increase in Type II Diabetes in Adults Age 30-40 Since 1990
The National Safety Council stated that in 1996, backaches alone cost industry more than $1.2 billion in production and services and $275 million in worker's compensation.
Last, but not least: Guess how much money the average 40+year-old male could save each year in medical expenses with regular exercise? 949 smackeroonies! That's right, $949.00. That's almost a GRAND a year, peeps!

Here's the deal in plain terms, people. If you are not implementing a healthy nutrition plan or at least trying to improve your eating habits, and if you are sedentary for no good reason or aren't exercising regularly and you are physically able to, you are contributing to the same messed up Healthcare system you condemn! It is our personal responsibility to make healthier lifestyle choices, not only for ourselves but for our fellow citizens, our loved ones, and generations to come.

So make your resolution to begin a health and fitness regimen that will improve your life, your loved ones lives, and ultimately improve the world we all live in and share because it really does affect us all, directly or indirectly. The time has come to get serious and make it happen! You can do it! Please, do not hesitate to contact me for help.



---


EXERCISE OF THE MONTH
This is the part of the newsletter where I picture an exercise and give explicit instructions on its proper execution.

Try this exercise for arms that will turn heads for sure!

Overhead Biceps Curls
Primary Muscle Group Worked: Biceps.


To see a video of this exercise go to: Overhead Biceps Curls

Preparation: To begin, set a weight that is comfortable on each side of the pulley machine. Note: Make sure that the amount of weight selected is the same on each side. Now adjust the height of the pulleys on each side and make sure that they are positioned at a height higher than that of your shoulders. Stand in the middle of both sides and then take a tiny step forward so that you are just in front of midline. Use an underhand grip (palms facing towards the ceiling) to grab each handle. Your arms should be fully extended and parallel to the floor with your feet positioned shoulder width apart from each other. This is the starting position.

Execution: While exhaling, slowly squeeze the biceps on each side until your forearms and biceps touch. While inhaling, move your forearms back to the starting position. Note: Your entire body is stationary during this exercise except for the forearms. Repeat for the desired amount of reps.

HEREIN LIES THE CHALLENGE: Keep your form strict! No cheating on this exercise. Simply pull the handles towards your ears and return to start.

TIP: Keep your arms up (parallel to the floor) and back (as opposed to letting your elbows come forward like they will want to) throughout this exercise.



---


THE PONDER POND
Okay, peeps! This is the inspirational part of the newsletter known as the "Ponder Pond" where you're welcome to take a swim in the sweet waters of inspiration.

This month's video is my all time favorite carol video! It may not be deep nor inspirational, but it's hilarious if you watch it all the way through! Too cute! Hope you enjoy it! Everybody have a very merry Christmas and a safe and happy New Year!



---


Well, that's about it for this time! I hope you enjoyed this month's newsletter and until the next issue, may the wind be at your back and improved health and vitality your new reality!

If you enjoyed this newsletter, please feel free to pay it forward to anyone you think would like it too. That is the best compliment you could ever pay me, and I appreciate it very, very much.

And don't forget to tell everybody about Straightforwardfitness.com where they can get all the free fitness info their heart desires and sign up for this newsletter while they are there.

From my heart to your health,

Linda Burke, CPT



Buy The Now What? Fitness Series Books Here!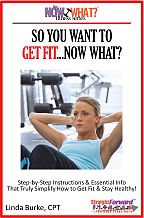 Please go to Amazon.com or Smashwords to purchase any version your little ole' heart desires.


To Get a Free Copy of The Gym Equipment Handbook
and Much, Much More...Simply Click on the "Click Here" Button Above or Click on My Book Below and Enjoy All the Free Gifts on That Page That You Want!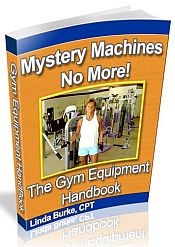 Sign Up Below For Your Free Monthly Newsletter, The Straightforward Fitness Flash!