HELLO 2009! GOODBYE HOLIDAY WEIGHT GAIN!

Wow. 2009. Can you believe it? Well, ready or not...it's here. I say, let's make this the best year of our lives! Are you with me?

Maybe a good place to start would be to take off any extra holiday pounds that may have crept up on us in the past couple of months. I don't know about you, but I went in about 5 pounds heavier than I would have liked. Don't quite know how that happened, but it did. So, add to that about 3 or 4 holiday pounds and voila! Here I sit at about 8 pounds heavier than I'd like.

Hey, I'm human too!
One thing about me...I am not a perfect, young, not-a-hair-out-of-place, skinny, girlie, fitness model kind of fitness trainer. Nope. I am just like you! I battle with tempting foods and I even lose the fight sometimes. But, I do know how to be healthy, and I do know how to take it back off when it stacks up a bit.

They say that people gain an average of 7 pounds over the holidays. So, all things considered, I didn't do too badly. But, hey, extra pounds bite no matter how you justify it. They gotta go!!!

If you're like me or like most, you may have gone into the holidays a little heavy, so your frustration is compounded by a pre-existing issue. Not to worry. It's a new year. We have the rest of our lives to make this thing work. We can, you know? I promise.

Holiday Pounds Be Gone!
So, let's take a look at some of the ways we can get rid of the holiday backup weight. Let's see, 7 pounds at about 1-2 pounds per week for loss. We should be able to get rid of the holiday poundage in anywhere from 3 weeks to 2 months. Piece of cake...oops, bad choice of words. It's a cinch! No problemo, easy sleezy, it's a done deal!

First of all: I am assuming by now that all traces of holiday treats are gone from your household. Right? If not, ditch 'em! They should be moldy by now anyways!

Second: Now's the time to look back at what was working before we were so rudely interrupted by the holidays. Think back when you were sailing along swimmingly on your workout routine and nutrition plan. Whether you were maintaining or losing, anything beats the holiday weight gain. So, work with me here!

Let's get back to the 5-6 small meals a day plan! Variety! Proper amounts of carbs, protein, fat, water, and all in the form of healthy veggies, fruits, meats, dairy, nuts, seeds, and did I mention water? Lots and lots of water!!

Let's review what our calorie intake should be and divide it into 6 daily portions and make healthy choices to fill in those blanks! Which brings me to my...

!!SPECIAL OFFER!! If you should decide you need a bit of help in that arena, I've decided to give you a HUGE boost. SPECIAL OFFER: The first 10 people who respond to this offer will receive a ½-price discount on MY NUTRITION PLAN.

This means that for 20 measly dollars you can start your new year out with a new nutrition plan to help you banish those yucky holiday pounds as quickly as possible. And that's a one-time charge, not monthly.

Now, I got an even better offer to help you through the holiday weight gain battle! SECOND SPECIAL OFFER: I will let the first 10 people join my online personal fitness training for ½ price! That's right! HALF PRICE!! Not 40, but 20 dollars monthly for my online training program. It's CRAZY! I've lost my mind!

No, I just understand how hard it is to get back on track. Luckily, I know exactly how to do it. Watch me. I'll prove it. I will lose this extra 8 pounds. It was fun putting it on. It is hard work taking it off. But, I will do it and prove to you in the process that it can be done.

I NEED A TRAINER! Luckily, I know one...ME!!!! This is when I become my own personal trainer and work this body back into shape!

Join me. For half price. I'm there for ya, baby!

You won't get a better offer. Online training plus a nutrition plan for half price. Go to straightforward.efitnesstracker.com and click on the Products & Services tab and sign up for the half-price special for 20 bucks. From there, I'll send you your login info and you'll fill out your profile. Then I'll design your personal workout and assign it to your very own calendar page. You'll have videos and start and finish pictures for all the exercises I prescribe. It's awesome if I do say so myself!

The nutrition plan is also the coolest. I'll send you your plan via email. You do need a computer to take part in this most spectacular offer. Just contact me and say: I Want the Half-price special Nutrition Plan! Remember, that is a one-time charge only!

I'll contact you from there and we'll get you started back on the path to weight-loss and a happier you!

I only have so many hours in the day, so I can't make this offer to everyone. So, hurry and be one of the first ten people to take advantage of this awesome offer!!



---


EXERCISE OF THE MONTH
This is the part of the newsletter where I picture an exercise and give explicit instructions on its proper execution. This month's exercise is one that will give you arms that make people want to touch them. It's called the Seated Biceps Curl. It is an excellent exercise and another one of my favorites. The trick here is to follow my tips explicitly. It's truly the difference between minimal results and awesome arms!! Try it and feel and see the difference!

SEATED BICEPS DB (DUMBBELL) CURL
Muscle Group Worked: Biceps.



Starting Position: Sit on an upright bench with arms straight and dumbbells hanging to your side, palms facing forward.

Execution: Bend the elbows raising the weight as high as you can without moving the upper arm forward, keeping elbows in direct alignment underneath your shoulders throughout the move. Return to the start position and repeat for desired amount of reps.

TIPS: Exhale as you raise the weight up. Avoid the urge to curl your wrists or to move the upper arms forward at the top of the move.

HEREIN LIES THE MAGIC: Make sure to keep the elbows in alignment beneath the shoulders throughout this exercise. Whatever you do, do not allow your elbows or upper arms to move forward. Once your upper arms move forward, your shoulders are stealing some of the glory and your biceps have stopped doing all the work. So, keep the upper arms back and in and you'll be shocked at how much more intense this exercise is when performed in this manner. Don't be surprised if you have to use a lighter weight than before too. Trust me, it is much more effective this way. Go ahead, try it!



---


THE PONDER POND
Okay, peeps! This is the inspirational part of the newsletter known as the "Ponder Pond" where you're welcome to take a swim in the sweet waters of inspiration that can only come from things that make you go, "Wow!"

If you are anything like me, this week's inspirational video will hopefully make you realize the power we all have to overcome any obstacle and realize how blessed we truly are. Grab a Kleenex and give Nick Vujicic two minutes and forty seconds of your time. It will make you think twice before feeling sorry for yourself ever again.



---


Well, that's about it for this month! Until the next issue, may the wind be at your back and improved health and vitality your new reality!

If you enjoyed this newsletter, please feel free to pay it forward to anyone you think would like it too. That is the best compliment you could ever pay me, and I appreciate it very, very much.

And don't forget to tell everybody about. Straightforwardfitness.com where they can get all the free fitness info their heart desires and sign up for this newsletter while they are there.

From my heart to your health,

Linda Burke, CPT



Buy The Now What? Fitness Series Books Here!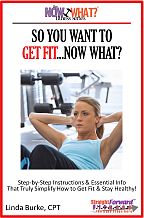 Please go to Amazon.com or Smashwords to purchase any version your little ole' heart desires.


To Get a Free Copy of The Gym Equipment Handbook
and Much, Much More...Simply Click on the "Click Here" Button Above or Click on My Book Below and Enjoy All the Free Gifts on That Page That You Want!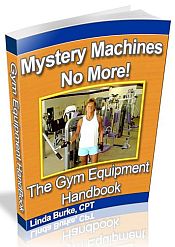 Sign Up Below For Your Free Monthly Newsletter, The Straightforward Fitness Flash!