FACTS YOU NEED TO KNOW
BEFORE EXERCISING OUTSIDE THIS SUMMER!

Spring has finally sprung and I know we all agree that it's about time, right? I don't know about you, but it was a long winter of discontent for this summer-loving lady! However, now that it is finally beginning to warm up, it is a good idea for us to brush up on some outdoor summer exercise savvy that could very well save your life.

Exercising in the heat poses a significant threat to individuals if they do not take adequate precautions. The danger of heat overload is compounded if people are not adequately hydrated prior to starting exercise, wear excessive clothing, or are overweight or obese. Therefore, special precautions need to be taken when exercising in the heat.

HEAT AND TARGET HEART RATE
If a man walks at three miles per hour and his heart rate (HR) is 125 beats per minute, walking at the same speed in the heat may result in a HR of 135 to 140 beats per minute. Thus, exercisers (regardless of the type of exercise performed) will have to decrease their absolute workload in the heat to stay within their target HR zones.

A hot, humid environment is the most stressful environment for exercising. When the air contains a large quantity of water vapor, sweat will not evaporate readily. Since the evaporative process is the most efficient mechanism for cooling the body, adequate cooling may not occur in humid conditions. Under these conditions, heat exhaustion and heat stroke become dangerous possibilities.

Following are some tips to help you stay safe and healthy while enjoying your exercise alongside Mother Nature:

Begin exercising in the heat gradually. Becoming acclimatized to exercising in the heat takes approximately 7 to 10 days. Start by exercising for short periods of time each day.
Always wear lightweight, well-ventilated clothing. Cotton materials are cooler, while most synthetics retain heat. Wear light-colored clothing if exercising in the sun, as white reflects heat better than other colors.
Never wear impermeable or nonbreathable garments. The notion that wearing rubber suits or nonbreathable garments adds to weight loss is a myth, as the change in weight is due to fluid loss, not fat loss. Wearing impermeable clothing is a dangerous practice that could lead to significant heat stress and heat injury.
Replace body fluids as they are lost. Drink fluids at regular intervals while exercising, but avoid overhydration, which can be as dangerous as dehydration. Frequent consumption of small amounts of fluid to minimize sweat-related weight loss is the best practice. While there are many commercially available sports drinks, rehydration with water is adequate except under extreme conditions where greater than 3% of a person's body weight is lost.
Recording daily body weight is an excellent way to prevent accumulative dehydration. For example, if 5 pounds of body water is lost after aerobic exercise, this water should be replaced before exercising again the next day. If lost water has not been regained, exercise should be curtailed until the body is adequately rehydrated.
Air movement is critical for adequate cooling. Even in cool conditions, if there is limited air movement (e.g., exercising on an indoor cycle, treadmill, or other equipment), the microclimate next to the body can become the same temperature as the body (~100° F, or 38° C), and saturated with water vapor from sweat (just like exercising in the tropics). This microclimate will prevent adequate heat loss, and thus put the exerciser at risk of a heat injury. Maintaining very good air movement around the exerciser allows the microclimate to be better regulated and facilitates heat loss.

HEAT ACCLIMATION
The positive adaptations to exercising in the heat can take place as early as 9 to 14 days after beginning the acclimation process. The critical changes that occur to facilitate heat tolerance include:

an expansion of plasma volume,
a decrease in heart rate and core temperature,
and an increase in sweat rate during exercise,
as well as a reduced threshold to initiate sweating (i.e., sweating will start at a lower core temperature).

Please bare with me here because this tends to get a little technical, but I think it's worth weeding through in order to attempt to understand a bit more about what is really taking place in our bodies throughout this whole process.

The increased plasma volume occurs over the first 1 to 3 days of acclimation. This early process is important because an increased plasma volume supports increased stroke volume, allowing the maintenance of adequate cardiac output while additional physiological adjustments are made.

The decreased heart rate and core temperature experienced with acclimation allow the body to perform more work before the onset of fatigue or exhaustion in the heat.

SOME REALLY HOT SWEATY FACTS
The increased sweat rate associated with acclimation occurs up to 10 days or more after starting to exercise in the heat and allows the body to dissipate heat more effectively.

Furthermore, at the beginning of exercise, sweating starts earlier in an acclimated person, which also improves heat tolerance.

Lastly, the sweat that is produced is more dilute (i.e., has a lower concentration of electrolytes), which acts to conserve sodium. See? There's a lot more to sweat than meets the eye. I keep trying to tell my clients sweat is a beautiful thing. Now can you see why?

And all this time you just thought exercising outside gets easier as you go because you're getting more and more used to it. Now you know...THE REST OF THE STORY. Pretty cool, huh? Well, don't worry, as time passes it will get hotter and hotter and this information will be just the ticket to get you fitter while you enjoy the great outdoors! I say YAY to that!

GETTING STARTED EXERCISING OUTSIDE
An exercise program that involves heat acclimation should include low-intensity workout sessions in the heat for 1 hour or more each day for 9 to 14 days. In addition proper hydration before, during, and after exercise should be carefully planned.



---

EXCITING ANNOUNCEMENTS!!

I have partnered with VU's 91.1 The Blazer in a 6-week video series called "The Six Week Summer Shape Up Challenge." To learn more about it click here. If you're lacking motivation to get in shape for the summer, this could be just the boost you're looking for. There will be prizes and weekly videos and all kinds of fun stuff. Get your booty on over there and join us as we give you the tools you'll need to transform your body once and for all!

Also, did you know that you can follow me on Facebook? Well, you can! Jump on over to Facebook.com/StraightforwardFitness and "like" my page, please. I post a fitness tip daily. Feel free to leave comments and check in often. Thanks ever so much!



---


EXERCISE OF THE MONTH
This is the part of the newsletter where I picture an exercise and give explicit instructions on its proper execution.

This month I thought I'd continue the train of thought on exercises that will enhance our already beautiful bodies for bathing suit season. In my opinion, nothing does that like a beautiful back. And a beautiful back is achieved through training the latissimus dorsi muscle, otherwise known as lats. They are the V-shaped muscles in your upper back that look like wings when a bodybuilder hits the double biceps pose. When these muscles are conditioned and developed, they help give your back that nice V-shape and they make your waistline look smaller. I vote yes to both, how about you?

Front Lat Pulldown
Primary Muscle Group Worked: Upper/mid back or lats.

These should be done pulling only to the front since the back lat pulldown has been proven to be dangerous for your shoulders and neck.

To see a video of this exercise go to: Lat Pulldown Video

Preparation: Grasp the bar just past the bend on each side with thumbs up and over the bar. Allow upper body to feel a good stretch and keep a slight natural arch in the lower back throughout the move.

Execution: Slightly lean back (being careful not to lean back too far, as shown) as you pull the bar down to the upper chest. Pause and slowly return to the start position while bringing body back up completely vertical focusing on the stretch in the lats (upper back). Repeat for the desired number of reps.

HEREIN LIES THE CHALLENGE: Always, always, always go slow and controlled! Don't get sloppy with this one. If your form starts to fail, kill the set. Remember, it's better to go lighter with perfect form than to cheat and risk injury.

TIP: Envision bringing the chest up to meet the bar and keep chin slightly tilted up throughout.




---


THE PONDER POND
Okay, peeps! This is the inspirational part of the newsletter known as the "Ponder Pond" where you're welcome to take a swim in the sweet waters of inspiration.

This month's video is meant to motivate you. I hope it makes you feel like persevering; that's how it makes me feel.



---


Well, that's about it for this time! I hope you enjoyed this month's newsletter and until the next issue, may the wind be at your back and improved health and vitality your new reality!

If you enjoyed this newsletter, please feel free to pay it forward to anyone you think would like it too. That is the best compliment you could ever pay me, and I appreciate it very, very much.

And don't forget to tell everybody about Straightforwardfitness.com where they can get all the free fitness info their heart desires and sign up for this newsletter while they are there.

From my heart to your health,

Linda Burke, CPT



Buy The Now What? Fitness Series Books Here!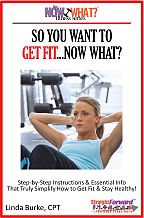 Please go to Amazon.com or Smashwords to purchase any version your little ole' heart desires.


To Get a Free Copy of The Gym Equipment Handbook
and Much, Much More...Simply Click on the "Click Here" Button Above or Click on My Book Below and Enjoy All the Free Gifts on That Page That You Want!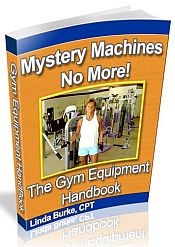 Sign Up Below For Your Free Monthly Newsletter, The Straightforward Fitness Flash!