How About An Early Start On Your Resolution List?

Go ahead, admit it. You've probably made a New Year's resolution at one time or another to begin working out regularly, or to start eating better, or to quit smoking or drinking, or something along those lines. Most of us have at least once, and unfortunately some of us do it yearly. Perhaps more importantly, the majority of these well-intentioned resolutions usually bite the dust hard within a month or two of being made. Why is that? Experts say there are five main reasons why they fail.

Reason #1 is not setting smart goals. SMART stands for specific, measurable, attainable, realistic and timely.

Reason #2 is doing what you think you should do instead of what you will enjoy. What works for one person may not work for you. Find an activity that you enjoy and go with that and you'll be much more likely to adhere to it.

Reason #3 is taking on too much, too fast. Ambition and motivation are wonderful but it is easy to go overboard and burn yourself out very quickly by biting off more than you can realistically chew. Develop the exercise habit first by starting out with 2-3 strength training sessions a week and 3-5 cardio sessions a week. After the first few weeks you can gradually increase the frequency, duration, and intensity safely.

Reason #4 is having an all or nothing approach versus a day by day approach. Of course, we all want to lose weight and be fit by tomorrow, but it took time to get out of shape and it will take time to get into shape as well. Fitness is a continuum, a lifestyle, not a plan you can implement and then quit one day and expect to remain fit. You might as well relax and take it one day at a time and understand that you are in this for the long haul.

While it's good to create a workout schedule, don't despair if life gets in the way and causes you to miss a scheduled exercise session. And remember, a little exercise is better than none at all, so try to do something everyday towards your goal even if you don't have time for a full-blown workout. For instance three, 10-minute bouts of walking are nearly as beneficial as a 30-minute session. The cumulative effects of exercise are much better than no exercise at all.

Reason #5 is a negative attitude. I can't stress this enough: you get out of life what you put into it, and if you go into a fitness plan with a negative attitude you are doomed to fail from the start. You must think positive and get your head in the game from the getgo!

TIPS FOR KEEPING FITNESS RESOLUTIONS
Now, go on and make that New Year's resolution; however, this year why not invest in your long and healthy future by keeping them? Here are a few tips to help you stay on track:

1) Be realistic. Make your goal attainable. For example, losing 50 pounds in a month is unrealistic. On the other hand, "I'd like to lose some weight," isn't quite specific enough. Perhaps, "I'd like to lose 15 pounds in 2 months," is a SMART resolution.

2) Make a plan. Don't just say you are going to be healthier; outline a plan for implementing your new fitness lifestyle.

3) Talk about it and be positive. Surround yourself with positive people. Get a workout partner if it helps.

4) Reward yourself. You might try celebrating your success by treating yourself to something that you enjoy that does not contradict your resolution.

5) Track your progress. Keep track of small successes along the way to your bigger goals.

6) Keep a food diary. I've said it before and I'll say it again, until you try this you just can't believe how helpful it is with your weight loss efforts. It's worth the trouble if it lends to your success, right? So just do it!

7) Be kind and patient with yourself. If you fall off the wagon—and you will from time to time—just pick yourself back up and get back on.

8) Stick to it one day at a time until it becomes a habit. Experts say this takes about 21 days and it takes about 6 months for it to become part of your personality. Whatever you do, don't quit!



---


LET'S TALK ABOUT HEALTHY CHRISTMAS PRESENTS!
Go Here to buy my fitness books now for your Kindle!! And did you know you can give Kindle ebooks as gifts – just click the yellow "Give as a Gift" button on the right side of any Kindle book page on Amazon.

The Now What? Fitness Series is for sale now at Amazon.com and is available for download to your Kindle, iPad, iPhone, Blackberry, Android devices, PC, and Mac.

To purchase it for download to your Apple iPad/iBooks, Nook, Sony Reader, Kobo, and most e-reading apps including Stanza, Aldiko, Adobe Digital Editions, Kindle, PDF for your PC or Mac, click here.

Or if you're a loyal Barnes and Noble customer, then by all means click here. I aim to please! To view them at the countless other sites, just Google Linda Burke Fitness Books.

My books are a series of six that will help anyone who wants to begin a health and fitness program know exactly what they need to do and exactly how to do it. These books are succinct and easy to read yet jam-packed with need-to-know info without all the hype, fluff, and filler you'll find in other fitness books. You can also buy them as a complete collection, so be sure and look for that wherever you decide to buy.

LET'S NOT FORGET TO PAY IT FORWARD, PLEASE!
Let me just say that the best advertisement possible is word of mouth and your support for the hard work I've put into my books is much needed and appreciated. That's why I would so appreciate it if you good folks would take the time after purchasing and reading my books, to submit a testimonial from the place it was purchased. It only takes a second and it will help support my work more than you could know. If for some reason that is too much trouble or time consuming, (I understand how valuable your time is) please don't hesitate to click here and submit your review or testimonial and I will post it for you.

Thank you so much for doing that!



---


Say! Did you know that you can follow me on Facebook? Well, you can! Jump on over to Facebook.com/StraightforwardFitness and "like" my page, please. I post a fitness tip daily. Feel free to leave comments and check in often. Thanks ever so much!



---


EXERCISE OF THE MONTH
This is the part of the newsletter where I picture an exercise and give explicit instructions on its proper execution.

This month's featured exercise is the Swiss Ball Side Raise. It's very tricky and takes lots of practice, but the payoff is awesome! You can feel this move right where it counts: the waistline! It completely targets the abdomen and oblique muscles.

Swiss Ball Side Raises
Primary Muscle Group Worked: Oblique muscles. (Side abs)

To see a video of this exercise go to: Side ball raises.

Preparation: Kneel sideways to the wall about a foot away from the wall with an exercise ball at your side as shown. Bend leg closest to the ball at a 90 degree angle and position your body sideways across the ball with hands just below ears. Nearly straighten the other leg and lodge it against the wall for balance.

Execution: Exhale as you bend at the torso up towards the wall as far as you can and pause and return to the straight torso position. Repeat for the desired amount of reps.

TIP: Once you find the sweet spot, stay on that side until you've done all your sets before swithing positions for the other side.

HEREIN LIES THE CHALLENGE: The hard part about this is finding the right position. It's easy to get the ball too far under the armpit or too far under the hip. Either of those makes doing the exercise feel awkward and difficult. However, find the right spot and you just know it! It really hits the waistline like no other! This is tricky, so focus and remember practice makes perfect.



---


THE PONDER POND
Okay, peeps! This is the inspirational part of the newsletter known as the "Ponder Pond" where you're welcome to take a swim in the sweet waters of inspiration.

I chose this video simply because it made me cry (and sometimes that's the only criteria for making the grade for the Ponder Pond) AND it shows how strong the love between a baby and it's parents is even at birth. Hope you like it too!



---


Well, that's about it for this time! I hope you enjoyed this month's newsletter and until the next issue, may the wind be at your back and improved health and vitality your new reality!

If you enjoyed this newsletter, please feel free to pay it forward to anyone you think would like it too. That is the best compliment you could ever pay me, and I appreciate it very, very much.

And don't forget to tell everybody about Straightforwardfitness.com where they can get all the free fitness info their heart desires and sign up for this newsletter while they are there.

From my heart to your health,

Linda Burke, CPT



Buy The Now What? Fitness Series Books Here!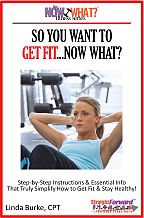 Please go to Amazon.com or Smashwords to purchase any version your little ole' heart desires.


To Get a Free Copy of The Gym Equipment Handbook
and Much, Much More...Simply Click on the "Click Here" Button Above or Click on My Book Below and Enjoy All the Free Gifts on That Page That You Want!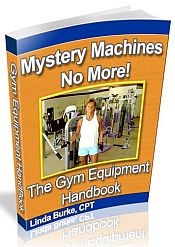 Sign Up Below For Your Free Monthly Newsletter, The Straightforward Fitness Flash!