IT'S GETTING BACK UP THAT COUNTS!

Wow! What a great early spring, eh? I know I am feeling the same exuberance that you are all feeling right now, right? It is just so nice to watch the leaves turn green and the flowers bloom and feel the magic that comes with the season change. It is truly a beautiful thing!

It is totally normal to want to shape up your body along with the season change. Am I right? I mean, along with the season change comes clothing changes. Let's face it...we begin to wear less clothing as the temperatures rise. Don't we naturally want to look better as we bare our skin?

Listen to me, I want you to hear this: I am human also...I know how hard it is to do the things that you need to do to shape up your body...to feel better about how you feel in your own skin. I, along with you, am aging, and it becomes increasingly difficult to make my body measure up to what I want it to look and feel like at any age.

I want you to know that it is a doable thing. You can change your body and then continue to keep it looking better no matter what your age. You can make things happen that actually make you look in the mirror and say, "Hey! You are looking better and better!" Here is the key: It is a continual effort that you must do on a daily basis. You must realize that you have to keep this effort going on a day-to-day commitment.

I have done it myself and you can too! But, it is not without great effort and huge commitment! Not to mention, complete dedication to your goals of a new and improved you! I will help you figure out a new workout and fitness plan that will lead you to the goals that you long for! I just want you to know that you are not alone!

I write books that I hope will direct all of you further on your path to fitness. It is something I feel led to do to help everyone to find their happier selves. I know that you cannot be truly happy unless you like what you see in the mirror and love how you feel in your clothes. I personally believe that this is right up there with spiritual fitness. It all truly ties together. You know...the whole body, mind, spirit thing. I believe we should strive to look and feel as good as we possibly can with what God gave us to work with. We may not all be beauty queens and kings, but we only have one body in this lifetime and we should do all we can to make the most of it.

I do want to clarify one thing. I struggle with issues just as you do. Just because I am a fitness professional does not mean that I don't go through the same challenges that anybody else goes through. I am so far from perfect it isn't funny and anyone who knows me personally can attest to this fact. I make mistakes along with the rest of the breathing human beings on this planet. I suffer the consequences and learn the lessons that come along with the decisions I make, be them painful or joyous.

This morning as I was doing my cardio running along a country road in the beautiful sunshine and feeling blessed to be alive and able to do this against the wishes of my ailing knees, I was hit with the poignant thought that it truly does not matter how often one falls down. What is important is how many times they get back up. Hallelujah for that!

You may wonder what my point is here. I know in the past when I have read things my mentors have written I tend to think of them as being beyond the daily struggles I go through. I guess I just wonder sometimes if anybody who reads my material may think of me as this person who has no battles with weight, self-confidence issues, addictions or obsessions, or any other challenges that can easily be masqueraded behind the facade of a fit-looking body.

WRONG! I go through all of it and I feel your pain! To go into detail would mean writing an entire book on that subject and I may do that someday. But for now just take it from me. I am struggling along with you, and I am learning to deal with my emotional issues as I go, just like you.

The main point I want to make this month is that I am here for you if you want or need me, and I feel your struggles on a personal level more than you may think. You can text, email, or call me anytime. I am reachable at my website through the contact me button. I would love to hear from you. After all, we are all learning together how to deal with our lives as they unfold.

Thanks so much for subscribing to this newsletter and for reading it and for your support. Our relationship is reciprocal as I live and learn from all that happens in my life, just as you live and learn through yours. We are truly in this together, and I empathize with your challenges as I do my own. I promise to hang in there and learn and grow along with you, and I hope that sharing through my writing maybe helps you a smidge. If it does, that is my payback. It is why I continue to do what I do.




---


ANNOUNCEMENT
I am happy to announce my new website for my books but more importantly and please hear this: My new Blog site! That's right I am finally joining the bloggers of the web world and I will be posting blogs that speak directly from my heart to (hopefully) yours. I look forward to this new outlet to let my inner voice sing. I hope you will join me there. Please head over and sign up for my mailing list so that you can be informed when I post a new blog. I am a believer in less is more so don't worry about being inundated with posts telling you every time I had a snack or a new thought. On the other hand, I hope you find the wait between posts worthwhile as I plan to speak directly from my "writing" soul and I look greatly forward to it. I have already begun the first blog and will be tweaking it and anxiously preparing it for your awesome and loyal eyes.




---


NEED HELP WITH YOUR FITNESS PLAN?
Go Here to buy my fitness books now for your Kindle!! And did you know you can give Kindle ebooks as gifts – just click the yellow "Give as a Gift" button on the right side of any Kindle book page on Amazon.

The Now What? Fitness Series is for sale now at Amazon.com and is available for download to your Kindle, iPad, iPhone, Blackberry, Android devices, PC, and Mac.

To purchase it for download to your Apple iPad/iBooks, Nook, Sony Reader, Kobo, and most e-reading apps including Stanza, Aldiko, Adobe Digital Editions, Kindle, PDF for your PC or Mac, click here.

Or if you're a loyal Barnes and Noble customer, then by all means click here.

My books are a series of six that will help anyone who wants to begin a health and fitness program know exactly what they need to do and exactly how to do it. These books are succinct and easy to read yet jam-packed with need-to-know info without all the hype, fluff, and filler you'll find in other fitness books. You can also buy them as a complete collection, so be sure and look for that wherever you decide to buy.

LET'S NOT FORGET TO PAY IT FORWARD, PLEASE!
Let me just say that the best advertisement possible is word of mouth and your support for the hard work I've put into my books is much needed and appreciated. That's why I would so appreciate it if you good folks would take the time after purchasing and reading my books, to submit a testimonial from the place it was purchased. It only takes a second and it will help support my work more than you could know. If for some reason that is too much trouble or time consuming, (I understand how valuable your time is) please don't hesitate to click here and submit your review or testimonial and I will post it for you.

Thank you so much for doing that!



---


Say! Did you know that you can follow me on Facebook? Well, you can! Jump on over to Facebook.com/StraightforwardFitness and "like" my page, please. I post a fitness tip most days. Feel free to leave comments and check in often. Thanks ever so much! If you have read any of my books you can also go to my new facebook page at https://www.facebook.com/NowWhatBooks and drum up a conversation with other readers or me or whomever. It's brand new so don't let the crickets scare you. Somebody has to get this party started, right?

You can also follow me on Twitter! Come on over and join the Twitter fun! I am still learning this tweet thing so be patient as I get past that learning curve!



---


EXERCISE OF THE MONTH
This is the part of the newsletter where I picture an exercise and give explicit instructions on its proper execution.

This month's featured exercise is a very intense AB workout. With bathing suit season upon us we are all concerned about that six-pack, right? However, this is an advanced move so just do what you can and be careful! If you are not ready for it yet, keep working and you will be soon enough!

AB superset
Primary Muscle Group Worked: ABs.

To see a video of this exercise go to: Killer Core Workout

Preparation: Set up the slings as shown on a high bar. Slip arms into the slings and raise the legs as shown.

Execution: Raise your legs towards your chest as you exhale. Do 10 reps or as many as you can. Then raise your legs from side to side to hit your oblique muscles. From here you will move to the cable machine where you will do cable crunches on the stability ball, first to the front and then side to side for obliques. From here move to the side raises on the stability ball as shown and finish up with hyperextensions for your lower back. Have fun!

TIP: Exhale as you raise your torso up on the hanging leg raises. This is advanced so don't try it if you are completely novice. Definitely not for newbies. If you are new at this you may bend your knees as you raise them.

HEREIN LIES THE CHALLENGE: Go slow. Do Not Rush This. Be patient and keep practicing until you can control your bodies natural move to swing with the moves on the hanging leg raises. You can do it! Just practice and don't give up! Even if you can only do a couple, it's okay! Practice makes perfect!



---


THE PONDER POND
Okay, peeps! This is the inspirational part of the newsletter known as the "Ponder Pond" where you're welcome to take a swim in the sweet waters of inspiration.

I chose this video because it inspired me to understand that people come and go in our lives for very special reasons, and I hope it speaks to you if you need this right now!



---


Well, that's about it for this time! I hope you enjoyed this month's newsletter and until the next issue, may the wind be at your back and improved health and vitality your new reality!

If you enjoyed this newsletter, please feel free to pay it forward to anyone you think would like it too. That is the best compliment you could ever pay me, and I appreciate it very, very much.

And don't forget to tell everybody about Straightforwardfitness.com where they can get all the free fitness info their heart desires and sign up for this newsletter while they are there.

From my heart to your health,

Linda Burke, CPT



Buy The Now What? Fitness Series Books Here!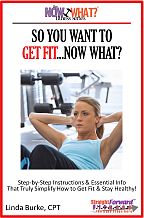 Please go to Amazon.com or Smashwords to purchase any version your little ole' heart desires.


To Get a Free Copy of The Gym Equipment Handbook
and Much, Much More...Simply Click on the "Click Here" Button Above or Click on My Book Below and Enjoy All the Free Gifts on That Page That You Want!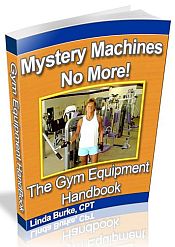 Sign Up Below For Your Free Monthly Newsletter, The Straightforward Fitness Flash!