WHO NEEDS POPCORN TRAILS WHEN YOU HAVE HOOSIER PELICANS?

The other day I was doing my cardio interval training outside when I had an epiphany. I like to take advantage of the cooler spring weather before it gets too hot to enjoy outside exercise. Running down the country road in front of my house, I decided to employ a bit of visualization. I love running/walking the Florida Gulf Beaches and it's been a while since I've had the opportunity to indulge. Hence, I decided to bring the beach to me.

I was envisioning the gentle waves lapping at my feet as I ran along peering out across the beautiful blue-green horizon. The wet white sand was firm under my shoes and the sun was warm on my face. I could almost hear the shells crunching under my feet and the seagulls squawking when they appeared as if on cue; two Hoosier pelicans came careening just over head, rambunctiously announcing their approach as they flew swiftly across the sky of my daydream. It was absolutely perfect.

What? You didn't know we have pelicans in Indiana? Well neither did these two geese, but I figured it's as close as we'll get here, so I just went with it. They were beautiful against the pristine blue sky as they flew with such purpose and grace, honking wildly with delight in their flight.

I giggled as I ran along, and I began to notice the beauty all around me. At that moment I came upon a dangerously slow-moving turtle that I helped across the road, and I was struck with the profound sense that "Someone" seemed to be trying to get my attention to notice the beauty that surrounds my life right where I am if I just open my eyes to it.

I've always been the kind of person who reads self-help books, spiritual books, self-growth, etc. I love that stuff and am constantly reading something of that nature. You'd think I'd know better than to get lost in the muck so much of the time, but what can I say? It is definitely a propensity that I battle with. It's so easy to get stuck on the treadmill of "life will be better when (fill in the blank)."

The problem with that kind of thinking is you end up missing the good stuff that surrounds you for being stuck in the angst of living in the future (which may never come) instead of living in the present moment (which is all we really have since it becomes the past in the blink of an eye).

When we get too caught up in worrying about what happened in the past or what may happen in the future, it truly can be debilitating. I call it the "can't see the forest for the trees" syndrome. Unfortunately, I find myself smack dab in the middle of that forest a lot more of the time than I care to admit.

In the famous words of John Lennon, "Life is what happens to you while you're busy making other plans." So I've decided to try and make a real effort to enjoy the journey more and loosen my grip on the destination. I've found it's easy to lose years of your life by holding on so tightly to a dream for the future that you miss the miracles all around you in the precious present moment. Life is just too short to live that way.

And to think all it took for this awesome epiphany to hit home for me was the timely appearance of those two Hoosier pelicans. Don't you just love it when that happens?



---


ANNOUNCEMENT
I am happy to announce the facelift of my new blog site but more importantly: MY VERY FIRST BLOG POST! Please just click on the link above to head on over and give it a read!

That's right as I stated last month, I am finally joining the bloggers of the web world, and I will be posting blogs that speak directly from my heart to (hopefully) yours. I look forward to this new outlet to let my inner voice sing. I hope you will join me there.

Please head over and sign up for my mailing list and subscribe to my blog so that you can be informed when I post a new blog. I am a believer in less is more so don't worry about being inundated with posts telling you every time I had a snack or a new thought. On the other hand, I hope you find the wait between posts worthwhile as I plan to speak directly from my "writing" soul and I look greatly forward to it.



---


NEED HELP WITH YOUR FITNESS PLAN?
Go Here to buy my fitness books now for your Kindle!! And did you know you can give Kindle ebooks as gifts – just click the yellow "Give as a Gift" button on the right side of any Kindle book page on Amazon.

The Now What? Fitness Series is for sale now at Amazon.com and is available for download to your Kindle, iPad, iPhone, Blackberry, Android devices, PC, and Mac.

Or if you're a loyal Barnes and Noble customer, then by all means click here.



---


Say! Did you know that you can follow me on Facebook? Well, you can! Jump on over to Facebook.com/StraightforwardFitness and "like" my page, please. I post a fitness tip most days. Feel free to leave comments and check in often. Thanks ever so much! If you have read any of my books you can also go to my new facebook page at https://www.facebook.com/NowWhatBooks and drum up a conversation with other readers or me or whomever. It's brand new so don't let the crickets scare you. Somebody has to get this party started, right?

You can also follow me on Twitter! Come on over and join the Twitter fun! I am still learning this tweet thing so be patient as I get past that learning curve!



---


EXERCISE OF THE MONTH
This is the part of the newsletter where I feature an exercise and give explicit instructions on its proper execution.

This month's featured exercise is great for framing your body with beautiful shoulders. With summer approaching we all want to look good in our tank tops and bathing suits, right? This is an awesome way to do that!

Prone Rear Delt Raise
Primary Muscle Group Worked: Shoulders.

To see a video of this exercise go to: Prone Rear Delt Raise Vid

Preparation: 1. While holding a dumbbell in each hand, lay with your chest down on a slightly inclined (around 15 degrees when measured from the floor) adjustable bench. 2. Position the palms of the hands in a neutral manner (palms facing your torso) as you keep the arms extended with the elbows slightly bent. This will be your starting position.

Execution: 1. Now raise the arms to the side until your elbows are at shoulder height and your arms are roughly parallel to the floor as you exhale. 1. Perform this as a side lateral raise--not a row. 2. Make sure there are a few inches between the bottom of your chin and the top of the bench.

TIP: 1. Perform this as a side lateral raise--not a row. 2. Make sure there are a few inches between the bottom of your chin and the top of the bench.

HEREIN LIES THE CHALLENGE: Go slow and do not allow momentum to rob you of results that fighting gravity will reward you with.



---


THE PONDER POND
Okay, peeps! This is the inspirational part of the newsletter known as the "Ponder Pond" where you're welcome to take a swim in the sweet waters of inspiration.

I chose Arthur's story because it inspired me to witness this guy's tenacity of spirit, commitment, dedication, and faith in himself as well as his mentor. Be sure and watch it through to the end. AWESOME!



---


Thanks so much for subscribing to this newsletter and for reading it and for your support. Our relationship is reciprocal as I live and learn from all that happens in my life, just as you live and learn through yours. We are truly in this together, and I empathize with your challenges as I do my own. I promise to hang in there and learn and grow along with you, and I hope that sharing through my writing maybe helps you a smidge. If it does, that is my payback. It is why I continue to do what I do.

If you enjoyed this newsletter, please feel free to pay it forward to anyone you think would like it too. That is the best compliment you could ever pay me, and I appreciate it very, very much.

And don't forget to tell everybody about Straightforwardfitness.com and Now What? Fitness Blog where they can get all the free fitness info their heart desires and sign up for this newsletter while they are there.

From my heart to your health,

Linda Burke, CPT



Buy The Now What? Fitness Series Books Here!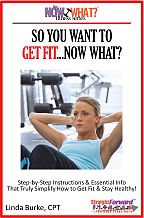 Please go to Amazon.com or Smashwords to purchase any version your little ole' heart desires.


To Get a Free Copy of The Gym Equipment Handbook
and Much, Much More...Simply Click on the "Click Here" Button Above or Click on My Book Below and Enjoy All the Free Gifts on That Page That You Want!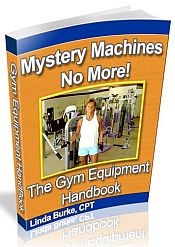 Sign Up Below For Your Free Monthly Newsletter, The Straightforward Fitness Flash!