ARE YOU GETTING THE MOST FROM YOUR GYM MEMBERSHIP?

What if I told you that I can give you some tips and secrets that will catapult your workouts from mundane and unproductive into results-producing, body-changing sessions that you would actually look forward to.

I am talking about training smart and utilizing your time in the gym in a way that will make the difference between night and day, people!

If you feel you are doing the perfect workout and you have reached the pinnacle of health that we all strive for already, then read no further.

If, however, you are like most people in the gym, you have a jam-packed life that is filled with obligations and commitments, making it necessary to utilize your workout time as wisely as possible.

Well, if you want to work out smarter and achieve better results than you ever have, I have great news for you! I am about to release my first fitness eBook. It is called (drumroll please) SO YOU JOINED A GYM…NOW WHAT? The top ten questions and answers for what to do next.

This book is chocked full of amazing advice and tips that will help you get the biggest bang for your buck in the gym.

I have decided to pull an excerpt from it and use it in this month's newsletter. I will be launching the book within the next couple of weeks.

This is my first of, hopefully, many eBooks to come. I will send out an official announcement to let you know when it is available for purchase and download. It will sell from my website at straightforwardfitness.com and be available via PayPal.

So without any further ado…I have chosen question number 5 from the book:

How do I lose my belly fat, flabby arms, and butt? What exercises can I do for my trouble spots?

Answer: I have a bit of bad news for you: There is no such thing as spot reducing. Not gonna happen. Yet, I get approached daily by people asking how they can get rid of their big belly or lose their jiggly upper arms or the dreaded drop-butt syndrome and saddlebag thighs.

Here's the good news: There are certain specific exercises you can do to tone and condition the muscle in those trouble areas, meaning you CAN spot tone and condition your muscle.

How-the-heck-ever, it would make no sense whatsoever to only strength train those areas and no others. You need to train every major muscle group in your body.

Why? Because every muscle in your body needs it, not just some of them. Training some muscles and not training others would cause imbalances and this would eventually show up as injury.

GET THIS: The more toned and conditioned muscle a body has, the higher the metabolism and the more calories are burned even at rest. You will make your body a fat-burning machine through conditioning and toning every major muscle group.

AND GET THIS: To lose the flab on your ear lobe, chin, pinky toes, belly, butt, arms or wherever, you must do CARDIOVASCULAR EXERCISE. That's right. That's what burns the fat from anywhere on your entire body.

You can crunch until you are blue in the face, but it will not flatten your tummy. All the triceps exercises in the world will not make your flabby arms thin.

HEREIN LIES THE KEY TO YOUR SUCCESS: The combination of these three elements:
1) a balanced strength training program that hits every major muscle group (including crunches for your belly, triceps exercises for your flabby upper arms, and thigh exercises for your saddlebags; but not in excess or exclusion of "non-problem" areas)
2) along with regular cardiovascular exercise
3) and a healthy nutrition plan
will flatten your tummy and diminish fat stores wherever they may reside.

The Bottom Line:
You must do cardio to burn the fat and calories.
You must strength train to condition the muscle.
And last but certainly not least, you must get your nutrition under control. Eat more fiber, lean meats, fruits, and veggies and less processed food, white food, sugar and saturated fat. Cut your portions way, way down.

Got it? Good. I never said it would be easy. But, worth it? Yes, definitely.

For more info on food check out my nutrition ebook (coming soon) or go to straightforwardfitness.com/nutrition.html

Now, with all that said and done, I will list a few exercises along with start and finish pictures and step-by-step instructions that are good for the aforementioned problem areas. These are great to do as a part of your strength training routine!

Sorry, but you'll have to buy the book to get those! As promised, I will keep you posted as to when you can get the book.

In the meantime, check out all the free workout videos that I have posted at You Tube. I hope you like them! If you do, feel free to subscribe to my page there and you will be informed every time I submit a new video. How cool is that?...and free to boot!

Be looking for my announcement coming soon informing you of when to get "SO YOU JOINED A GYM...NOW WHAT?" And be sure and tell your friends about it!

If you enjoyed this newsletter, please feel free to pay it forward to anyone you think would like it too. That is the best compliment you could ever pay me, and I appreciate it very, very much.

And don't forget to tell everybody about Straightforwardfitness.com where they can get all the free fitness info their heart desires and sign up for this newsletter while they are there.

From my heart to your health,

Linda Burke, CPT



Buy The Now What? Fitness Series Books Here!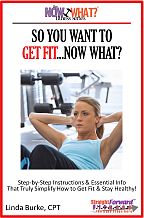 Please go to Amazon.com or Smashwords to purchase any version your little ole' heart desires.


To Get a Free Copy of The Gym Equipment Handbook
and Much, Much More...Simply Click on the "Click Here" Button Above or Click on My Book Below and Enjoy All the Free Gifts on That Page That You Want!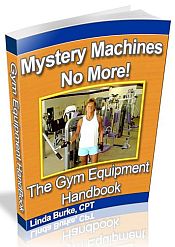 Sign Up Below For Your Free Monthly Newsletter, The Straightforward Fitness Flash!