TOO BUSY FOR EXERCISE?
THE TIME HAS RUN OUT ON THAT EXCUSE!

Recently, a friend of mine was showing me a book of exercise routines that was entirely devoted to 15-minute workouts. Now, I am not going to lie...my first reaction was to scoff at this idea as a stupid gimmick for a book. However, upon inspection of the routines and after some serious contemplation, I must admit I see a valid point to short, intense workouts for people who are too busy to do longer ones. You can definitely get a good sweat on and burn some calories if you choose the right exercises for sure.

Let me just say that I do not believe everybody should stop their longer workouts and begin doing 15-minute workouts only on a regular basis. Not the point here. The point is this: Too many people are so crazy busy that they honestly can't squeeze in driving to the gym, changing clothes, working out for an hour and showering before heading back to work or home or wherever their busy lifestyle has them going next. I get it. I know how harried our lives have become.

With kids, grandkids, aging parents, work, etc., and the obligations that go along with it all, it's hard to find the time to do anything. But as I am always preaching, if you don't take the time to take care of yourself, you may not be around to take care of your family or anything else.

That's why I believe the 15-minute workout may be a very good idea for people who are truly so busy that they can't fit it in any other way. I believe you should strive to do a 30-60 minute workout when and if you can, but certainly 15 minutes of intense exercise is better than none at all. And it is great for the days you know you need to work out, but can only spare a few minutes.

So what can you do in 15 minutes to make it worth your time and effort?
Focus on compound exercises like squats, lunges, push-ups, pull-ups, presses, etc. Superset (going from one exercise to another with no rest between) these exercises for extra intensity. Now to add even more bang for your 15-minute buck, add intervals of cardio between supersets. Just make sure you are using proper form and technique at all times and push to exhaustion with every set.

Here's a sample workout you could try:
1) Squats and shoulder press (done at the same time) for 30 seconds and then quickly move to cable chops for 30 seconds. Do that 3 times then do 2 minutes on elliptical.
2) Swiss ball leg curl for 30 seconds and quickly move to prone plank for 30 seconds. Three times then 2-minute elliptical again.
3) Finally, Swiss ball single-arm chest press and quickly move to medicine ball twist taps. Again, repeat 3 times then finish with 2 more minutes on the elliptical machine.

Be creative and have fun! Most of all, just do it! Even 15 minutes can be very beneficial and certainly way, way, way, way better than nothing at all! And best of all, you can do these workouts at home. All you need is a Swiss ball, and some dumbbells and maybe a medicine ball. You could actually do the twist taps with a dumbbell if you don't have a medicine ball.

See, there really are no more excuses. Check out this excellent article and The Big Book of 15-Minute Workouts for more awesome ideas! However, do exercise caution when doing some of the moves. They may be contraindicated for peeps with bad backs, knees, etc. Always check with your doctor before starting this or any exercise program.



---


NEED HELP WITH YOUR FITNESS PLAN?
Go Here to buy my fitness books now for your Kindle!! And did you know you can give Kindle ebooks as gifts – just click the yellow "Give as a Gift" button on the right side of any Kindle book page on Amazon.

The Now What? Fitness Series is for sale now at Amazon.com and is available for download to your Kindle, iPad, iPhone, Blackberry, Android devices, PC, and Mac.

To purchase it for download to your Apple iPad/iBooks, Nook, Sony Reader, Kobo, and most e-reading apps including Stanza, Aldiko, Adobe Digital Editions, Kindle, PDF for your PC or Mac, click here.

Or if you're a loyal Barnes and Noble customer, then by all means click here. I aim to please! To view them at the countless other sites, just Google Linda Burke Fitness Books.

My books are a series of six that will help anyone who wants to begin a health and fitness program know exactly what they need to do and exactly how to do it. These books are succinct and easy to read yet jam-packed with need-to-know info without all the hype, fluff, and filler you'll find in other fitness books. You can also buy them as a complete collection, so be sure and look for that wherever you decide to buy.

LET'S NOT FORGET TO PAY IT FORWARD, PLEASE!
Let me just say that the best advertisement possible is word of mouth and your support for the hard work I've put into my books is much needed and appreciated. That's why I would so appreciate it if you good folks would take the time after purchasing and reading my books, to submit a testimonial from the place it was purchased. It only takes a second and it will help support my work more than you could know. If for some reason that is too much trouble or time consuming, (I understand how valuable your time is) please don't hesitate to click here and submit your review or testimonial and I will post it for you.

Thank you so much for doing that!



---


Say! Did you know that you can follow me on Facebook? Well, you can! Jump on over to Facebook.com/StraightforwardFitness and "like" my page, please. I post a fitness tip most days. Feel free to leave comments and check in often. Thanks ever so much!



---


EXERCISE OF THE MONTH
This is the part of the newsletter where I picture an exercise and give explicit instructions on its proper execution.

This month's featured exercise is the Bench Dip. It's great for firming up those upper arms that so many of my female clients complain about. This exercise is very challenging and can be done with your feet on the floor instead of another bench if that's too difficult.

Bench Dips
Primary Muscle Group Worked: Triceps.

To see a video of this exercise go to: Bench Dips.

Preparation: Place two flat benches parallel to each other, about three to four feet apart as shown in picture. Sit on one bench facing the other, with your hands grasping the side of the bench. Using your hands to support your weight, lift your feet to the top of the other bench so that the rest of your body is suspended between the two benches.

Execution: Inhale as you slowly lower your body toward the floor by bending your elbows until your upper arms and forearms form a right angle. Do not go below a 90-degree angle, as this can stress your shoulders. Exhale as you slowly rise back up to the start position by straightening your arms.

TIP: If this is too difficult you may put feet on the floor and keep a bend in the knees.

HEREIN LIES THE CHALLENGE: Go slow. Do Not Rush This. Pull out as many as you can and don't worry if it is only 4 or 5. Work up to as many as you can and before you know it you'll be doing sets of 10. Yay!



---


THE PONDER POND
Okay, peeps! This is the inspirational part of the newsletter known as the "Ponder Pond" where you're welcome to take a swim in the sweet waters of inspiration.

I chose this video because it inspired me, and I hope it inspires you too!



---


Well, that's about it for this time! I hope you enjoyed this month's newsletter and until the next issue, may the wind be at your back and improved health and vitality your new reality!

If you enjoyed this newsletter, please feel free to pay it forward to anyone you think would like it too. That is the best compliment you could ever pay me, and I appreciate it very, very much.

And don't forget to tell everybody about Straightforwardfitness.com where they can get all the free fitness info their heart desires and sign up for this newsletter while they are there.

From my heart to your health,

Linda Burke, CPT



Buy The Now What? Fitness Series Books Here!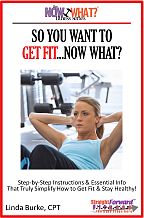 Please go to Amazon.com or Smashwords to purchase any version your little ole' heart desires.


To Get a Free Copy of The Gym Equipment Handbook
and Much, Much More...Simply Click on the "Click Here" Button Above or Click on My Book Below and Enjoy All the Free Gifts on That Page That You Want!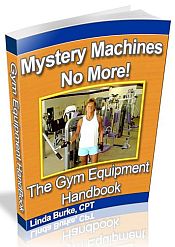 Sign Up Below For Your Free Monthly Newsletter, The Straightforward Fitness Flash!